The Tome
tome \TOHM\ noun.
1 : a volume forming part of a larger work.
2 : book; especially : a large or scholarly book.
The Tome is the printed newsletter publication of the Lummi Island Community Association (LICA) and is published monthly except August and December. A printed copy is sent via bulk mail to all Postal Addresses on the Island. If you would also like to receive it via email, click Here.
Donations supporting LICA help us publish the Tome. Our annual budget is on a calendar year basis, January to December. Many donate at least $30 to let us continue to provide these services.
LICA does not endorse advertisements that appear in the tome. Availability of advertising space is on a First-Come, First-Served basis. Contact Publisher@LICA.us for more information.
Opinions of contributors to The Tome do not necessarily reflect those of the Officers, Directors, Editor(s) or Members of the Lummi Island Community Association.
---
Brown Betty
Brown Betty is an email publication of the Lummi Island Community Association (LICA) and is published as needed anytime there is important news that cannot wait for publication in The Tome. It is also supported via your Donations to LICA. You can sign up for this service by clicking Here.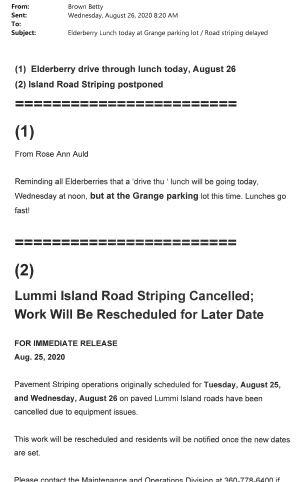 ---
Lummi Island Directory
Published by LICA, this is the Official printed Directory for the Island.
It includes a list of Organizations and Institutions, Emergency & Important numbers, Business Yellow pages, and the white pages list all of the participating people on the island.
Advertisements in the Directory are accepted and are coordinated by the LICA Publications Team.
---
Information for the Next Directory
2023 is the next Publication year. You can enter information at any time below:
---
Community Website
OurLummiIsland.org (this website) is one of the many publications & services provided by LICA and funded via your Donations.
The website provides many services to the community and ANY of it's organizations though extensive features and programming including:
Add events directly to the Island wide Community Calendar
Able to manage Event sign-up's online for physical events, meetings, or Video Conferencing (Zoom, etc.)
Post Announcements to the Home page of the site
Run special surveys & polls
Have online Elections via secure Voting
Access to Fundraising systems
and more features are added often..
Keywords
Updated: 2023/09/04 @ 7:49 pm Tark Henderson